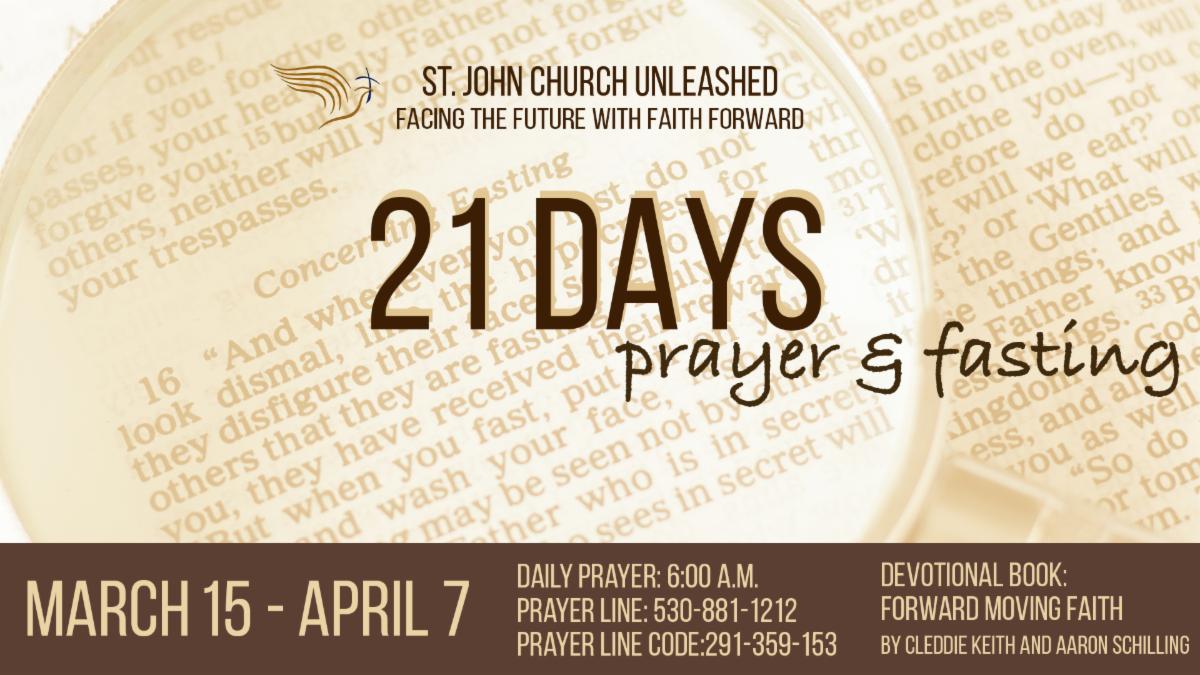 SJC 21 DAYS OF PRAYER AND FASTING 2023
St. John Church 21 Days of Prayer and Fasting (SJC21DPF) begins Wednesday, March 15 and ends Friday, April 7 (Good Friday). Our theme is "Facing the Future with Faith Forward"! (Philippians 3:12-14)
SJC21DPF takes place during the Lenten Season and excludes Sunday. Lent is a period of 40 days (Ash Wednesday – Good Friday) during which Christians remember and prepare for commemorating the death and resurrection of our Lord Jesus Christ.
During the 21 days of prayer and fasting, we will join in on a church-wide daily prayer call at 6:00 AM (plus Sundays during the fast, Holy Saturday and Resurrection Sunday.) Our 21 daily devotions will come from the book, Forward Moving Faith by Cleddie Keith and Aaron Schilling which is available in the SJC Growing in the Spirit Bookstores.
Participants are to set aside personal quiet time, choose their own fast and keep a journal to record and commemorate their prayer and fasting journey. We have been encouraged by Pastor Davis to Look at our Past/Look at our Present/Look at the PRIZE (Philippians 3:12-14). From the authors of The Word of Today, "We all need a little faith, hope, and courage to face the day. And some days, we need as much as we can". Let us enter this fast expecting an increase in all these areas.
FIVE COMPONENTS OF THE SJC 21 DAYS OF PRAYER AND FASTING
The five (5) components of the SJC 21 Days of Prayer and Fasting
Personal Quiet Time
Church-wide Prayer Call
Personal Fast
21-Day Devotional from the book Forward Moving Faith by Cleddie Keith and Aaron Schilling
Personal Journal
(1) Personal Quiet Time: Daily personal devotion or quiet time is simply time set apart to spend with God. During this season, plan to set aside more time to spend with God every day and be consistent. Quiet time is an important part of a Christian's everyday life. This time should allow one to draw closer to God without distractions. It consists of practicing the spiritual disciplines of prayer, worship, listening, journaling, scripture reading and meditating on God's Word. We must desire to know God better and be willing to obey the Lord God that we seek to know. It is imperative that every believer intensifies his or her commitment to living in accordance and obedience to the Word of God to experience the glory of the Lord like never before!
(2) Church-wide 6:00 AM Prayer Call: Join the SJC Family for a daily 6:00 AM prayer call that begins Wednesday, March 15 (including Saturday and Sunday) and ends Friday, April 7 (Good Friday). Each day there is a prayer focus and
scripture. Each morning Pastor Davis and/or SJC representative will lead in devotion and prayer.
CALL-IN NUMBER: 530-881-1212 / MEETING ID: 291-359-153
(3) Personal Fast: Your personal fast should be so impactful that in your sacrifice you are constantly reminded of the power and presence of God in your life.
Choose your personal fast:
Abstaining from certain foods (example: Daniel Fast, eliminating meats, dairy, sugars, junk foods, fried foods or etc.)
Minimizing the use of technology/television/social media
Eliminating non-essential spending
Divine cleansing and renewal of our bodies are some of the benefits of a personal fast. Pray for God's wisdom to make appropriate choices during this time of fasting.
It is recommended that you consult with your physician before beginning a food fast. Remember to drink plenty of water and get sufficient rest.
(4) 21-Day Devotional: We will start each day with The Word, prayer, and an intentional focus on our theme: Facing the Future with Faith Forward!
"Without faith it is impossible to please God because anyone who comes to him must believe that he exits and that he rewards those who earnestly and diligently seek him" (Hebrews 11:6).
It is our desire during these 21 days and beyond to be pleasing to God. The prayer of faith is important. When we come, we must believe. Jesus says we can pray for anything and if you believe that you will receive it, it will be yours.
We are living in times of uncertainty. As we pray, we are trusting the Lord with our world, our church, our community and our families. We will need increased faith, hope, and courage.
Remember God's joy is our strength (Nehemiah 8:10), especially when times get tough. The enemy will use every possible device to get us to focus on our problems. We will give him less attention and give more attention to Jesus, our Savior. We will not be led astray from our devotions to Him. We are advancing in Him. We are "Facing the Future with Faith Forward".
(5) 21-Day Journal – Journal your 21 days of fasting and prayer  journey.
Visit our Growing In the Spirit Bookstore at either of our physical campuses or purchase your copy on Amazon.